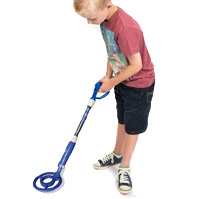 Metal detecting is a very specific and underestimated hobby that everybody should try at least once in their life.
There are a lot of reasons to incur in metal detecting like:
The love of history and thrill of being able to hold something in your hands that hasn't seen the light of day in hundreds of years, the love of coin collecting.
Whether that be older colonial silver coins or more modern coins like wheat pennies, the love of being active and in the outdoors, metal detecting can be a fantastic form of exercise to stay in shape and of course financial gain from either selling your finds precious jewelry or even gold nuggets.
New to metal detecting? read this Metal Detecting Tips for Beginners
You don't need a lot of money to begin metal detecting. Metal detectors for kids are normally doesn't cost a lot of money compare to the expert level machine.
There are a lot affordable and feature rich metal detectors available for kids/beginners to choose from. There are lots of brands offering great detectors for beginners.
In this article we reviewed top 10 best metal detectors for kids that are available to buy in 2020.
Without further ado, here is the list of Best Metal Detectors for Kids:
#1 Kids Metal Detector Bounty Hunter Gold Digger
Even though this product is generally bought for children's use later on most adults end up using it too, due to it has a higher potential in comparison with metal detectors.
This metal detector can be used anywhere to search all kinds of valuable metal. Whether it is gold, aluminum or iron objects. With its motion all-metal mode and trash elimination control you can find treasure only & eliminate the junk!
The gold digger metal detector Identifies coin-size objects up to 6 inches underground, and perceives larger items up to 2 inches deep. It works with two 9-volt alkaline batteries. The shaft and the (7 inches) search coil are waterproof.
If you are wondering "if this device can detects gold or not", as its name suggest, yes, it's very much capable of finding you gold.
The Bounty Hunter gold digger includes headphones with muffs over both ears. It's adjustable to fit your head for private searches in crowded places. The Gold Digger is adjustable for use by kids and adults making it a perfect "Great family fun and educational too!"
Features:
Detector weight: 3.6 pounds
Easy to use knob control interface
2 search modes
Preset ground balance
3 Number of Tones
Battery life indicator
Adjustable handle
#2 Kids Metal Detector Bounty Hunter BHJS Junior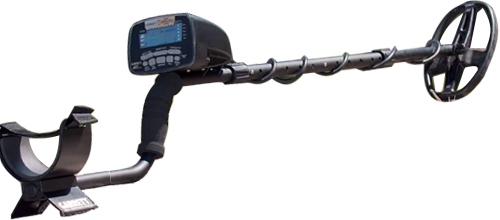 This is currently (as of writing this review) best selling metal detector for kids, its specifically designed for children which detects coin-sized objects up to 5 inches deep and larger objects up to 3 feet deep. This is a light-weight metal detector that runs on two 9 volt batteries (not included with purchase).
It has got a target indicator meter that measures signal strength and it can detect all kinds of metal in a range of approximately 10 by 9 by 57 inches. It's recommended for the kids aged between 6-12 years. This metal detector can detect silver, nickel, and copper.
Thanks to the many features that makes it a perfect device for kids, features such as adjustable power/sensitivity control, low battery indicator, adjustable trash elimination, and volume to signal strength and many other feature you will not get a better detector at this price range.
BHJS comes with 1 Year limited warranty against defects in workmanship and materials.
Features:
Visual battery life indicator
2 search modes
Levels of adjustable discrimination: Analog
Number of tones: 1
Can detect: 5 inches maximum coin depth
Adjustable sensitivity
1 year warranty
#3 Kids Metal Detector Bounty Hunter TK Tracker IV
The Bounty Hunter TK4 Tracker is one of the most popular detectors among the metal detecting lovers even though it is one of the most expensive ones (around $100). This is due to its rugged metal detector; this makes it possible for detecting treasure in extreme ground conditions. It neutralizes response to mineral content in the ground.
TK4 Tracker IV comes with target depth indicator with 3 target ID categories and a discrimination control to eliminate unwanted metals because of its capability to detect any kind of metal. Also, on the screen it provides a battery life indicator.
In summary, the Bounty Hunter TK is amazing for kids, beginners and intermediate alike. Its value comes from pairing premium features with an affordable price.
Features:
3 search modes
2 tone audio discrimination
8-inches waterproof search coil
Preset ground balancing
Battery Life Indicator
Read full review of Bounty Hunter TK Tracker IV
#4 Kids Metal Detector NHI Waterproof with Pinpointer & Folding Shovel
The New Home Innovations (NHI) metal detector is great entry level, feature riche with lots of new tech. It combines lightweight and great design with a robust, reinforced body.
This machine requires two 9v batteries, easy to use for both newbie treasure hunters and experienced and experts. When you purchase this item you will some surprise gifts: a "Forager I Metal Detector", "5 in 1 Folding Shovel" and "The Ultimate Metal Detecting Beginners Guide".
The NHI metal detector is truly an amazing piece of device and the optimal choice if you're looking for a high-end detector at an affordable price.
Features:
5 inches waterproof search coil
Sensitivity adjustable
Discrimination control
Headphone Jack
Free 5 in 1 folding shovel
1 year warranty
#5 Kids Metal Detector American Hawks Explorer II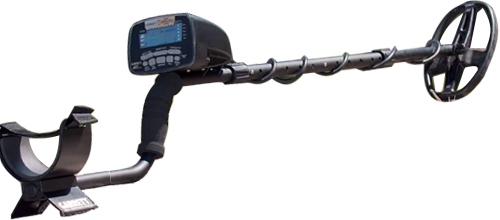 This is the priciest one of all but it is worth it. With LCD screen it shows a type of object found and depth because of its microprocessor. Its maximum goes up to 6 inches. This is a flawless device that presents all metal detection and discrimination.
Rugged design and comfortable handle with arm brace. The 1/8 waterproof search coil will allow you search in shallow water at the beach. The sensitivity level is fully adjustable.
Another great feature is 3 operation modes, 3 tones to indicate different types of metal and auto ground balance which make it easy to spot buried items. All in all, this is feature rich, affordable, and well built beginner's detector that offers many hours of fun!
With the purchase of this item, you will also get a free battery, carry bag and headphone. It is important to mention that the use of headphones is not always necessary now that the sounds that it makes are loud enough. If you want a good detector with a digital readout to start out with, than American Hawks Explorer II is for you.
Features:
Three operation modes
LCD can display depth of the target
Internal Speaker Headphone jack
Waterproof search coil
Requires Two 9V batteries
1 year distributor warranty in the USA
6 – INTEY Metal Detector with Pinpoint Targeting
This powerful device has a pinpoint targeting function, once metal detected, the target indicator would point to the right, saving energy and time.
With adjustable disc and sense, you can adjust according to different requires that any metal detector can have, satisfying almost some basic detecting tasks, such as the detection of a pre-determined metal type.
This metal detector is not heavy at all; it can be disassembled into different parts. It is about 40 inches tall and 9 1/2- 10 inches wide. It folds down flat to travel and comes in a carry case, very easy to travel or transport. It requires 9 volt batteries to operate.
Another great feature is its waterproof search coil; you can search at the bottom of a shallow pool or trickling creek.
#7 Kids Metal Detector Bounty Hunter Junior Target ID (TID)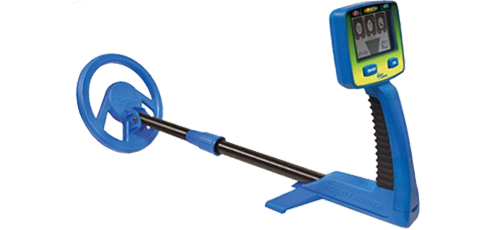 Looking for a metal detector for kids with great value? This is yet another great device from Bounty Hunter, the Junior TID is a great choice. It has features such as graphic target depth indicator, battery life indicator, 6 inch water resistant search coil, and a wing stand. All of that is offered at under $100 price range.
This is a great starter's device. As the previously ones is very lightweight so kids & youth can use with ease. The detector is waterproof.
This metal detector comes with target depth indicator with visual battery life indicator and adjustable discrimination control to eliminate unwanted metals.
The feel of the device is nice, light and well balanced. The shaft of the Junior TID is of aluminum that is adjustable as per your requirement so you can find it comfortable length to accommodate your height.
Features:
6-inches waterproof search coil
Battery Life Indicator
Graphic depth indicator
Need 2 AA alkaline batteries
Weight – 1.5 pounds
1 year limited warranty
8 – INTEY Lightweight Metal Detector with Multi-function Folding Shovel
This metal detector can detect all kinds of metal but it can be set up to Two Operation Modes: All metal, which allows the device to recognize all the different kinds of metal with auto ground balance and high sensitivity and the discrimination mode so you can choose what kind of metal you want the device to recognize.
It has a detection range of 18.5 cm diameter waterproof search coil which enables you to search in shallow water (suitable for beach searching), and a 3.5 mm earphone socket.
One of the most popular characteristics among buyers is the fully adjustable alloy shaft. It can be adjusted to be between 85 cm and 115 cm.
This metal detector comes with 1 multi-function folding shovel, a user guide and a little cameo zipper bag that contains a nice metal folding shovel
If you want light-weight, good looking, and lot of useful accessories, this is a great option for you.
Features:
Two operation modes
Fully adjustable shaft
Water proof search coil
Requires one 9V alkaline battery (not included)
9 – King's MD-1008A Kid's Gold Finder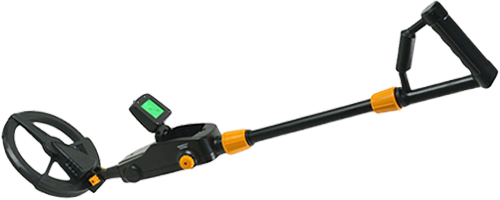 One of its most attractive characteristics of King's gold finder metal detectors is its LED screen and its low price with most of the standard features found in it. This is a very useful tool to get the kids introduced to the world of metal detection because of its small size and light-weight.
Although MD-1008A doesn't have detection capability of a professional one but it can detect all kinds of metals. This is useful for science education, kids' activity, and simple metal detection.
Its not a waterproof, while it can work at beaches but don't let your kids make it wet and stop them going underwater searching with this device.
This is the cheapest metal detector for kids in the market right now. With the purchase of the King Detector MD-1008A, you get a welcome guide and a 12-month warranty and friendly customer service.
Features:
LCD display
Light weight and easy operation
Requires one 9-volts battery to run
Indication mode: sound
10 – Ground EFX Metal Detector for Youth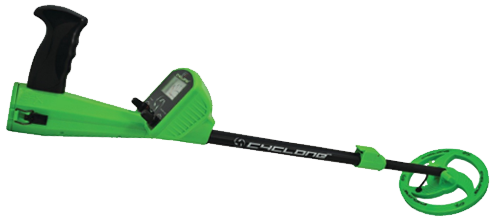 Continuing on the child friendly category this is a solid metal detector which can fulfill kids' curiosity and keep them busy while they learn and have tons of fun.
Whether you use it on the beach or in your backyard this device will detect metals up to 24 inches deep.
With an attractive vintage design because of its youth analog metal detector, plastic construction, with an adjustable length from 26 inches to 36 inches and friendly lime green and black color, it is the most popular go-to device for metal detection among kids.
With a pair of 9 volt batteries, it can detect coins or similarly sized objects up to 5 inches deep and for larger metal objects up to 24 inches deep. This useful device also possesses 6.5 inches' circular coil submersible up to 24 inches.
Features:
Analog metal detector
Can detect coins up to 5 inches
Submersible coil up to 24 inches deep
Requires 2 9V Alkaline batteries
If you want to know more about what features to look into a metal detector, read this 10 Questions to Ask Before Buying a Metal Detector.
Conclusion
There are literally hundreds of metal detectors for kids available on the market to choose from, ensuring it is a challenging task to find the perfect metal detectors for kids.
Listed above metal detectors are great for kids, youth and beginners, specially designed to be light-weight, all standard features of a professional detector and affordable price.
These detectors are best for your kids who are starting their career/hobby in metal detecting. We picks the best one as of writing this article that are most popular out of many available options, We hope that this article helps you purchase the suitable metal detector as per your particular needs.