Metal Hunting has become a child's play with the Bounty Hunter Tracker IV metal detector. An extremely user-friendly gadget, it delivers optimum performance while hunting all types of metals with special discrimination property for useless objects that obstruct the search.
This metal detector will make treasure hunting a lot more fun for the user and you can easily carry it around. The best part is the durability. It is a handy product for finding simple metal objects.
Features at a glance – Bounty Hunter Tracker IV
2 Tone Audio Discrimination
3 Search Modes (All-Metal mode, Discrimination mode, and 2-Tone audio mode)
8-Inch Waterproof Search coil
Automatic Ground Balance
Built-in Speaker
Knob Control Interface
A 6.8 kHz frequency, weighing only 2.8 lbs, better object discrimination and its ease of use make the Bounty Hunter Tracker IV metal detector stand out.
A dual tone discriminate makes this classic model a great buy. The sensitivity adjustment feature makes it easy for the treasure hunters in locating the desired objects in diverse conditions and environments.It offers a simple intensity meter for display that does not offer identification of targets but is ideal for newcomers and children.
Design – Bounty Hunter Tracker IV Review
A sleek body with two operating controls and various other specifications, the Bounty Hunter Tracker IV can be easily balanced. Automatic ground track feature helps the device balance itself while the user can conveniently hunt the desired objects. Even though it does not have many advanced features, the device is able to detect in extreme conditions including beaches and mineralized grounds without any adjustments in sensitivity.
Operation Modes – Bounty Hunter Tracker IV Review
The Bounty Hunter Tracker IV metal detector has three operation modes including the All Metal, Tone Discriminate and Full Discriminate. There is a simple switch that can help the user in changing the mode as per the desired requirements.
All Metal Mode: The middle option is the All Metal mode that helps detect iron, steel, brass, silver, aluminum, gold and copper metals. This mode is most commonly used for hunting relics, cache, property markers and other metal hunts. For in-depth detection, this is the best mode as it has the highest detection capacity.
Full Discriminate Mode: The left side offers the full discriminate mode. This mode is ideal for all those who are looking for targeted hunting. All trash and other useless objects are rejected while detection of desired metals. There is also an option for adjusting the discrimination range.
Tone Discriminate Mode: The right side of the switch is the tone discriminate mode. The beep tone usually denotes that the hunt is on and the iron objects are automatically rejected in this mode. This mode is ideal for coin shooting and jewelry hunting.
The gadget comes with an advantage of dual-mode operation which makes hunting an interesting experience.
Warranty – Bounty Hunter Tracker IV Review
The Bounty Hunter Tracker IV metal detector comes with a 5-year limited warranty. Material and workmanship defects are covered under the warranty which starts from the date of purchase. The device does not provide warranty for the accidental damage and misuse. The purchase bill is needed to claim warranty.
Should you Buy Bounty Hunter Tracker IV?
A good metal detector for beginners looking to take up metal detection as a hobby, this device is affordable and is available with all major metal detector sellers. It is a great companion for metal detectors and once you learn how to operate it well, the performance is phenomenal.
There are many additional accessories that can add value to this metal detector. For better results, it is best to plug in earphones for better concentration while using the detector.
On the flip-side, the Bounty Hunter TK4 Tracker metal detector may not be suitable for higher-end hunters and they may need an upgraded version. Even though the depth is less as compared to many other advanced detectors, this one may surprise you.
FAQ – Bounty Hunter Tracker IV
What is the Price of

TK4 Tracker?
As of writing this review, the price of Bounty Hunter Tracker IV is under $100 and is one of the best detector selling under 100 dollar price point.
What is Bounty Hunter Tracker IV headphone jack size?
The headphone jack size is 1/4-inch and it comes free with detector.
Is Bounty Hunter Tracker IV waterproof?
Yes and No. The Tracker IV is not waterproof however the search coil that comes with detector is waterproof and it's completely submersible you can use it for detecting in shallow water.
However as stated above the detector itself is not water-proof you make sure to use it with care the small wave will splash the coil connection to the housing, which is not water-proof and may short out the unit.
Bounty hunter tracker IV depth
There is no "one size fit all" kind of thing here – you can say exact depth because there are many factors come into play while deciding the exact depth a detector can find an object. For example a coin sized object may get 5 inches deep where as a garbage can lid might come in at 20-22 inches.
Bounty Hunter Tracker IV Finds
source – https://www.detecting.com/finds.htm
Brian & Maddie Serrano found these objects using BH Tracker 4
"My Tracker IV has found many coins and some very nice rings" – TerryRB
"I dug down a couple of inches and out popped this 14K gold earring!" – Michael Vertrees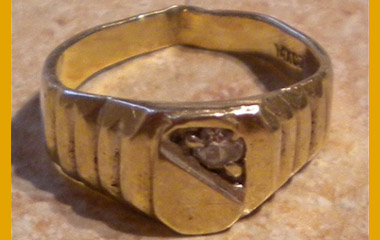 "I quickly started finding junk, but then I found a quarter, then a dime, then a penny, then a nickel and another quarter! I know it's not a lot, but it was exciting, to say the least!" – Michael Vertrees