If you are new to metal detecting world and wondering what is metal detector, here is a brief description of it.
A metal detector is electronic equipment that is used to find hidden metal from various locations such as sand, water, relic etc.
There are hundreds and thousands metal detectors currently available in the market with various features and are used for different purposes at various price range.
We have put together a list of top ten you can buy in 2021.
Top 10 Best Metal Detectors in 2021
#1 – Garrett AT Pro Metal Detector – Best of All Purpose
The Garrett AT Pro is all-rounder metal detector is one of the best metal detectors in the market right now. It seems a bit expensive at first but looking at its features it is well worth the price.
What make it stand out from the rest is its water resistance and it can go up to 10-foot deep in water, which is amazing for a detector at this price range.
It runs on 4AA rechargeable battery (included with item), which gives you amazing battery power that lasts for hours without having to recharge. You have 2 modes to operate in, Pro mode or Standard mode.
The standard mode is lot like the Ace 350. The Pro mode is more advanced and feature rich that lets you hear the depth and size of the buried objects.
#2 – Bounty Hunter BHJS Junior Metal Detector – Best for Kids
The BHJS detector is excellent choice for kids who wanted to dive into the world of metal detecting. This is a perfect entry level detector for adults, the junior detector comes with all professional metal detecting features.
The sturdy, compact and lightweight BHJS is very sensitive and can easily detect coin sized object up-to 5+ inches and larger object up to 3 feet.Discrimination control disregards the iron and most useless items, the volume of the signal increases as it goes closer to the target.
Very easy to operate specifically designed for kids and beginners. Check best kids metal detectors.
#3 – Bounty Hunter Gold Digger Metal Detector – Best for Finding Gold
The BH Gold Digger does what it claims to do i.e. find you gold! At an affordable price this detector can find you precious metals like iron relics to gold coins!
It comes with headphone which eliminates all noises around while you are on a gold hunt. It is very sensitive to metal objects – it can detect larger objects at greater depths of 2 feet. The trash eliminator control to eliminate junk from target while searching for metal(s).
The bounty hunter gold digger is recommended for jewelry hunting, relic hunting and gold finding.
#4 – Minelab GO-FIND 60 Metal Detector
Go-Find 60 is a great metal detecting machine that can even works with your smartphone – the phone screen will display the same screen that is on the detector!
This is waterproof so you can use it underwater or on soil, with precision control system and extreme depth, you'll be an expert in no time. It is designed for users from any experience level.
The Minelab Go Find 60 is affordable, feature reach detector that can be used anywhere you like – on soil or underwater.
The machine is powered by 4 x AA batteries, the easy to use and intuitive user interface is simple to operate. It is made up of (not so heavy) plastic making it very light weight, it easily folds up & fits into a standard backpack making it convenient to carry and go anywhere.
Read full Review of Minelab Go Find 60
#5 – Fisher F2 with Free Pinpointer – Best for Beach Hunting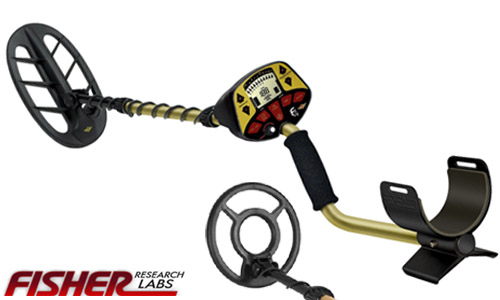 The Fisher F2 metal detector offer better features then the other detectors in this price range. For about the same price you're getting a far more user-friendly and proficient machine.
It comes with 4 and 8 inches coils and a low quality pin-pointer, after all it's free and better than nothing.
The 8″ standard coil is a good for everyday use, while the 4 inch coil works well in small areas or areas with a lot of trash.
The easy-to-read LCD screen that shows you 2 digit numeric display that is helpful to distinguish between iron, foil, nickel, and other metals, target identification is very accurate.
It is very light (2.6 pounds) and easy to swing, it has separate audio tones for iron, nickel, tabs and silver. It's a perfect for detector for beginners.
The Fisher F2 does excellent job for coin hunting at wet sand and underwater and it seems to work fine at beaches, but if your primary goal is gold prospecting then consider buying the Bounty Hunter Gold Digger.
#6 – Garrett Ace 250 Discovery Pack – Best for Beginners
The Garrett Ace 250 is an excellent choice for beginners. It's efficient and does its job well. We're not saying it has capabilities of the higher end detectors, but it does find you some treasure with practice and patience!
The detector has a preset discrimination pattern or you can create your own. The LCD shows you battery life so you don't run out in between your detecting, note that the battery is non-rechargeable.
One nice feature of this detector is electronic pin-pointer that is useful to precisely locating the target.
You can customize the adjustable arm cuff to suit your requirement and last but not least you can disassemble the detector that is useful for travelling with it.
It's easy to use and solid performing lower priced metal detector with great features for the beginner, spend time in the right spots and it will pay for itself in a short time.
Read Full Review of Garrett Ace 250
#7 – Whites Coin Master Pro Metal Detector
The White's electronics Coin Master Pro (model number: 800-0327) is one of the best detectors in this price range. It is an excellent machine very easy to set up.
This Pro model is exceed the basic Coin Master's (model number: 800-0325) features that is suitable for coin and jewelry hunting.
One of the best features about CoinMaster Pro is tone ID that gives you different audio tones for different metals.
Other features worth mentioning are good battery life (9 volt batteries) last for days, light weight to handle& move around with it, good depth and the 9 inch waterproof spider coil suitable for beach exploration.
The detector works perfectly, is simple in operation, discriminates quite well (5-range discrimination) hear and see it all. One concern to note is deep gaining somewhat more difficult with this machine.
#8 – Bounty Hunter Tracker IV Metal Detector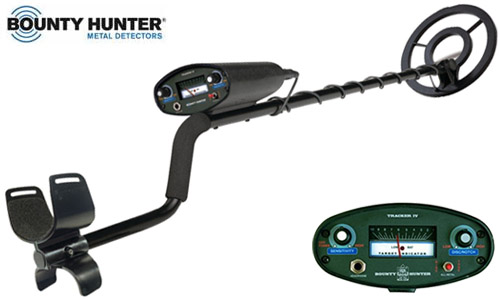 Yet another great metal detector from Bounty Hunter, Bounty Hunter is leading manufacture when it comes to creating best metal detectors at affordable price.
The TK4 Tracker model is rugged detector suitable for finding treasure in extreme ground conditions. It can detect the presence of all metals including gold, silver, brass, aluminum, iron and steel.
The items included with the Tracker 4 are: a bag, pin pointer, headphones and kit. This is not high end detector but it does quit well for what it is capable of.
It has two audio tones target ID, two hunting modes, all metal and disc, as well as very adequate discrimination and sensitivity adjustments that are quite functional.
Tracker IV currently the number one selling hobby metal detector on the market, this is a great entry level detector for anyone starting metal hunting.
#9 – Teknetics Delta 4000 Metal Detector
Those who bought the Teknetics Delta 4000 metal detector shared a common thing with us that this is an impressive machine it gets deep down, identifies target depths from 0 to 8 inches, and has excellent discrimination and pinpointing.
The detector is easy to use, even a beginners can start using it after reading the basics.
The machine has a digital LCD display with 2-digit numerical target ID. The depth indicator and VDI are excellent.It has 2 headphone jacks, 1/8″ and 1/4″, no need for any headphone adapters.
The machines runs on a 9-volt alkaline battery that last for 20-25 hours continuous use. It's so light weight that you can easily use it for hours without feeling tired or overloaded. The detector comes with 5 years limited warranty.
One issue we faced during the review is that the detector not give you accurate result in (highly mineralized) salt water, a digital machine such as Delta 4000 assumes that the water itself is a metal object, and will therefore give wrong signal of presence of metal while you swinging the machine over the beach sand.
So if ocean hunting is your primary goal then you should go with Garrett AT Pro or Teknetic's Gamma or Omega detectors.
#10 – Fisher F4 Multi-purpose Metal Detector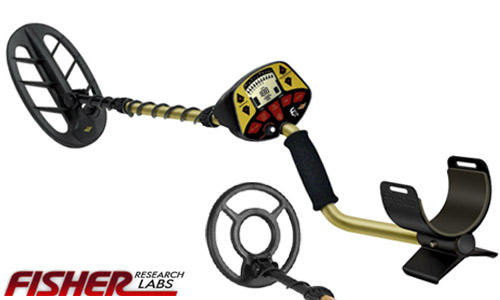 The Fisher F4 is fairly well balanced metal detector suitable for coin shooting, relic hunting, beach hunting. Although it's not heavy but it's not as light as one would expect – the lighter the better.
It has a nice LCD display screen, which includes a menu-driven user interface, it include a two-digit display that shows the target ID or depth. The target ID makes it easy to differentiate trash from treasure.
The screen also shows you battery life indicator. It requires two 9-volt batteries to power the detector.
Few customers' complaint that the screen freezes sometimes, like a computer, so all you have to do is switch it OFF and ON again and start hunting.
Another concern is the head phone jack is on the bottom of the box which shortens the cord and it is easy to get tangled up. If you asked point out one great feature about Fisher F4 we would thump up for "pinpointing" feature showing the depth of the target.
The depth is fairly accurate which saves you time going after the target easily.
For the consumers who don't want to spend much on a detector and still want a good quality multipurpose detector, the Fisher F4 is really a worthy buy.
Best Metal Detector Buyer's Guide
If you ask "what are the best metal detector in the world?"
even the experts can't give answer to this question!
Instead the question should "I am located at beach site at this location, and I am looking to finding gold near my location, my budget is $$$ and I am a newbie to detecting, what metal detector is good for me and from where can I buy it?"
This is more specific question, and we can try to answer this questions below.
Choosing a best metal detector is a difficult task for beginners as well experience person, there are new and improve models appearing on the market continuously.
If you are a first time buyer, the process of choosing the right kind of detector should be based on the following:
What are you going to find with metal detector?
How much money you can afford to buy?
Where are you using the detector?
How much metal detecting experience do you have?
There are different kind of metal detectors available in the market which uses different features and technologies. There are metal detectors specifically for gold prospecting, beach hunting, all purpose etc.
Apart from this there are things worth considering before buying a metal detectors such as:
Visual identification
Water resistance
Battery requirement
Coil size
Ground balancing
Headphone
Circuit type
Metal Detector Circuit Types
There are 5 basic circuit types that are found in a metal detector:
TR (Transmitter/Receiver) is based on Induction Balance (IB) principle. The TR detectors are capable of telling difference between ferrous and nonferrous object.
BFO (Beat Frequency Oscillation) is also IB principle, these metal detectors are generally designed as toy detectors. These are cheap and doesn't have feature of distinguishing between different types of metals.
VLF (Very Low Frequency) these metal detectors are common these days and great for their ability in distinguishing between different types of metals. VLF detectors are very sensitive to copper and silver, but these detectors are not sensitive to gold.
VLF/TR technology represents a combination of Very Low Frequency and Transmitter/Receiver technologies thus enabling the VLF/TR detectors to control trash and ground mineralization simultaneously.
PI (Pulse Induction) metal detectors cannot discriminate between different types of metals – PI detectors are the best to use in salt water or highly mineralized soil. Targets can be detected much deeper with PI technology.
The best detector doesn't mean the newest (with latest technologies) and expensive ones, sometimes even a low price old model detector can do your job!
Don't misjudge the power of detector if you see an older (say a 5 or 10 year older) model in the below list.
One more thing – if one metal detector is popular right now and everybody is buying it, does not mean you should also buy it.
Before purchasing determine what your exact goal is, features it offer, and opportunities with the detector.
You may be overwhelmed with so many brands and models to choose from and if you not very sure about what are the best metal detectors to buy?
Worry not, we did the hardworking for you, and found the best and most recommended metal detectors for you based on the different category, price, and features.
Go to the top of this page to see the list of best detectors to buy as per your budget and needs.