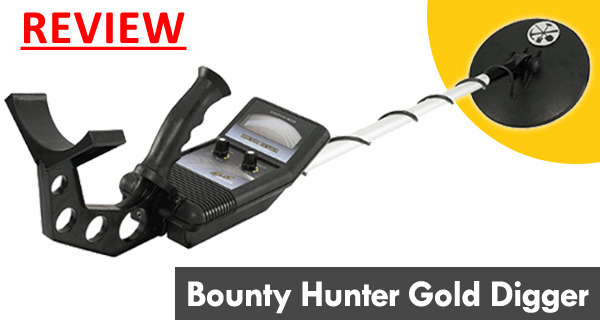 There are many kinds of metal detectors are available in the market for sale, many of them comes with "gold nugget" or "gold digger" etc added to their name.
However it is evident that, companies using word "gold" to lure the people.
It is very difficult to choose the perfect "gold digger" or "gold detector" from so many metal detectors that are not really mean for finding you gold.
Here is a perfect metal detector to help you find the real gold, its well known name in metal detector industry – Bounty Hunter – in this article we are reviewing Bounty Hunter Gold Digger Metal Detector.
This is a hand on review and hopefully it will definitely help you to make right decision.
Here we will look into detailed specifications. Depending on performance, we will review this product.
Bounty Hunter Gold Digger Metal Detector is an entry-level metal detector. It should be valued depending on its market price. Comparing this product with the high-end product is not good.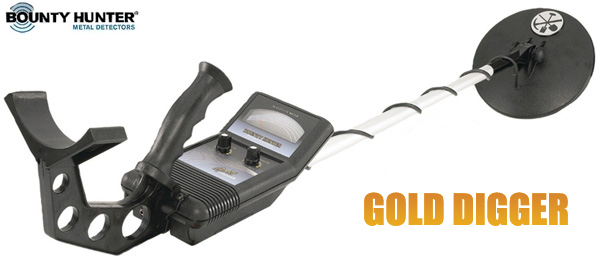 Weight & Dimensions
Gold digger has a dimension of 21.5 x 13.1 x 5.8 inches, and it weighs 2.6 pounds. It is not very heavy. It is compact and lightweight.
Search Coil
It comes with a seven-inch search coil. The material seems good. The elliptical design looks cool and is very important for even scanning of the ground surface. The coil is weather resistance. Therefore, it is waterproof.
Batteries
Gold digger comes with a 9v rectangular alkaline battery. It is giving better battery backup as of now. There is no need of a very high capacity battery, as this device does not have LCD and other knob settings. This device requires two batteries of 9v. Therefore, backup is good.
Operating Principal & Frequency
The gold digger uses the principle of VLF technique. It also has automatic ground balance. There is no need of setting parameter and gain every time.
Depending on the surface, it adjusts itself. Sometimes we did feel ground adjusting was not very good.
However, after some time we got proper output. It takes time to deliver. It is a motion-type detector.
Therefore, you need to move to get the proper result.
The frequency of operation is 6.7 KHz. Which is acceptable at this price range. You will not get high-quality output with this frequency. We managed to find quite a lot of things.
It is better to try at hill stations to see its performance. With VLF technique and 6.7 KHz, it is a decent buy.
BH Gold Digger – Warranty
This product comes with the one-year limited warranty. Which is less, in comparison with the other products. Some online retailers are giving a five-year warranty.
Few other companies are offering a five-year warranty, but their product is five times the cost of this one. For the money, the warranty is acceptable. It has limited warranty but covers all basic problems.
Sensitivity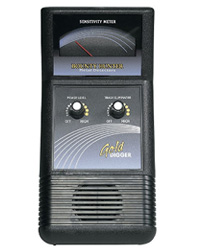 It is difficult to measure the sensitivity of this metal detector. It detects some small objects. In our search, we did find medium to small objects until the depth of five to six inches.
You can detect the large objects until the depth of two to three feet.
The sensitivity factor also includes kind of metals detected. With 6.7 KHz frequency operation and ground balancing technique, sensitivity seems above par.
It may decrease over the period. Better sensor design was necessary. Still, it is a good deal at a price under $100.
BH Gold Digger – Response
When it comes to the detection response is good. The speaker produces a good beeping sound. If the surrounding noise is, more you cannot hear the beeping for minute detection.
The amplification factor is decent, but it could have been better. It definitely delivers loud sound if the object is big and not too deep. The size of object and depth it is in decides the output.
BH Gold Digger – Earphones
You can plug in earphones with cable length shorter than three meters. It is to get proper sound. The audio jack is of decent quality. It did give better output.
We managed to find objects at good depth. Because of outside noise, we could not hear the sound. After using earphones, we heard the tone.
Functionality Control & Adjustments
Controls are very important in metal detectors. Let us look into the control section. It has few control options. They are as follows
Power/Sensitivity
It is the left knob. Knobs are of good quality. Smooth rotation. Turn towards the right to increase sensitivity. We did hear the noise when it was set to highest sensitivity point. It is better to set the sensitivity to a slightly lower point to hear the clear sound.
Trash Eliminator
It is on the left. It will help you to eliminate unwanted metals. By changing the knob, you can set sensitivity. It was not great but more than decent. For the money, it delivered better performance.
User Interface
You need to understand the signal graph because there is no LCD display. You will get a sensitivity indicator. You need to interpret the signal depending on the deflection of the needle. It is disappointing for sure.
BH Gold Digger – Price
Bounty Hunter Gold Digger Metal Detector is available from $60 to $99. Different sellers have different accessories. If you want some add-on accessories, then you can search e-commerce websites. You will get better offers.
Should you Buy Bounty Hunter Gold Digger Metal Detector
As with any product there are some pros and cons, so this this Bounty Hunter gold digger.  If you want a good looking and user-friendly detector at a lower price, then go for this.
You will get an entry-level product with five-year warranty at $60 to $100. It has a decent coil, features, and design. The only problem is detection depth. With better sensor, you can increase the depth.
For the price, it is a good buy. Bounty Hunter Gold Digger Metal Detector can help you to find some gold nuggets and some ancient coins.